Last week was the best for residential house sales since the Summer of 2022 and best for Listings since April 2021, the latest figures show.
Chris Watkin's special guest this week on the 'UK Property Market Stats Show' is Iain White, ex Romans boss.
Unlike the Land Registry, Halifax and Nationwide indexes, which is already three to eight months out of date, this show focusses on real time property market stats from last week (Week ending Sunday, 21st May 2023).
The idea is to provide estate agents – and anybody else with an interest in property – with information regarding what is happening in the housing market – both nationally and regionally U.K.
Property Market data for the week (Monday 15th May to Sunday 21st May inclusive):
Listings: 37,327, up 21.2% from last week. The 2023 running weekly average is 32,048.
Average listing price: £445,500. The 2023 Running Weekly Average is £429,200.
Price Reductions: 21,283 properties, up 16.4% from last week's price reductions. The 2023 running weekly average is 17,848.
Average Asking Price of properties being reduced: £406,100. The 2023 running weekly average is £402,250.
Gross Sales: 26,341, up 25.8% from last week's gross sales. The 2023 running weekly average is 21,888.
Average asking price of properties sold STC: £373,900. The 2023 running weekly average is £356,200.
Sale fall Throughs: 5,784, up 28.3% week-on-week. The 2023 running weekly average is 4,967.
Percentage of sales falling Through to gross sales: 21.96% The 2023 running weekly average is 23.72%.
In the last 15 minutes of the show, there is a particular look at the Watford property market.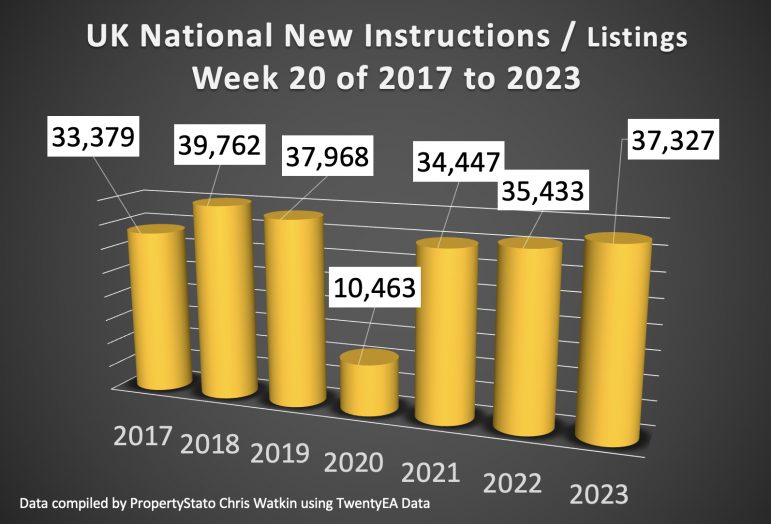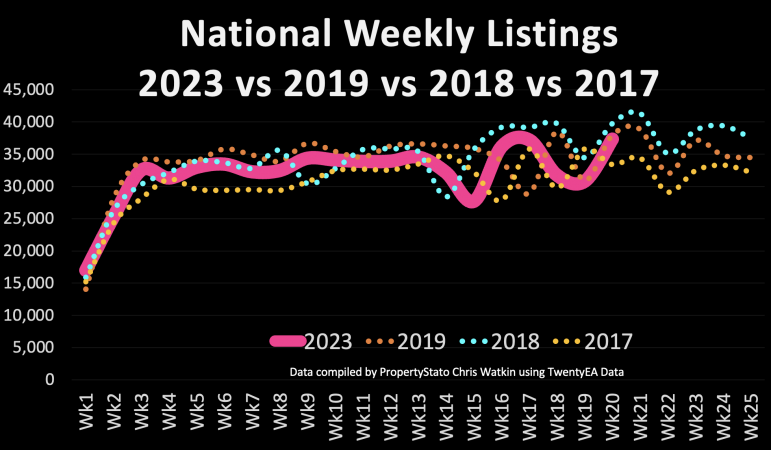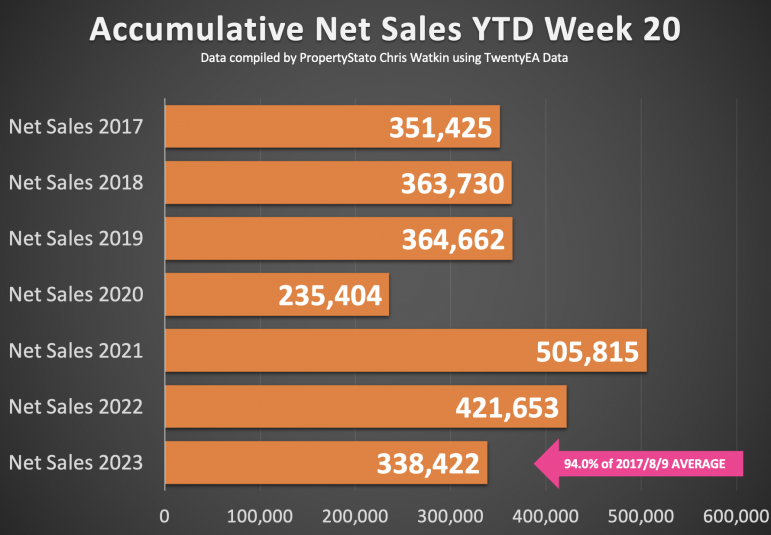 This article is taken from Property Industry Eye.
Hear from our customers
'This is the best Estate Agent in Milton Keynes by far. We have been renting the past 10 years from these guys and never let us down…Would 100% recommend Stratfords Property Services to anyone.'
Fatjon K
'Stunning service, excellent communication and very quick. We hope everybody who is involved in buying a house (especially first time buyers like us) to have an estate agent as Matt.
Gunai A
'I can highly recommend Stratfords. They are a professional but approachable and friendly team.They quickly found a new tenant for me and managed to negotiate a very good rent. Good communication.'
Ian K
'We were incredibly pleased with the service and experience that we were provided with by Matt…Stratfords are a lovely business and I'm grateful that we found our new home through them, would highly recommend!'
Joe F
Recommended to Landlords and Tenants alike. Luke and Matt were incredible during the whole process of renting and talked me through everything with amazing attention to detail. Stand out the best letting agents in Milton Keynes.
Kyle
'David and his team have been my agents for my rental properties for the last 10+yrs and have always been extremely fare and professional in delivering exceptional value for money… These are my go to guys for rental agents and house sales and purchases'
Neville H
'They have been amazing since the time we started viewing properties. At that time I was working in London and it was very difficult to view properties, but with the assistance from Luke we made it possible…It truly is a joy renting from Stratfords.'
Pieter L
'Had a great experience with Stratford Property Services. Luke was always extremely responsive and flexible in the 18 months I rented a property through them. I wouldn't hesitate to rent through Stratfords again in the future.'
Rachel C