Industry reponds as Halifax HPI shows property market displaying 'a degree of resilience'
The latest Halifax House Price Index shows that average house prices fell by -0.3% in July, a fourth consecutive monthly decline.
Property prices dropped by -2.4% on an annual basis, easing from -2.6% in June and the typical UK home now costs £285,044 (vs peak of £293,992 last August)
But Halifax says the market is displaying 'a degree of resilience', with industry data showing increased activity.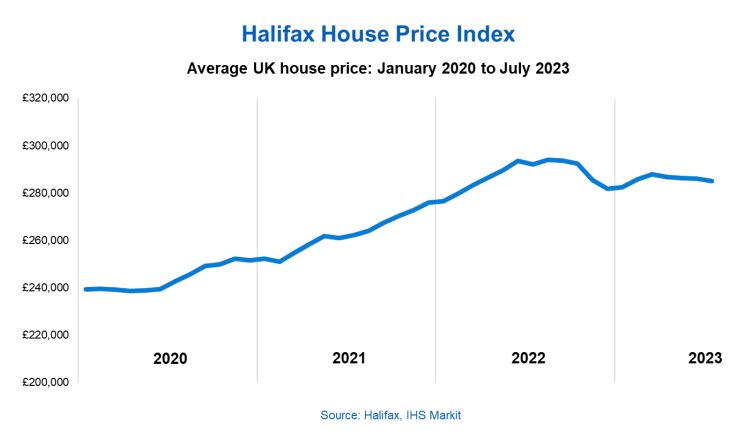 Kim Kinnaird, Director, Halifax Mortgages, said:
"These figures add to the sense of a housing market which continues to display a degree of resilience in the face of tough economic headwinds.
"In particular, we're seeing activity amongst first-time buyers hold up relatively well, with indications some are now searching for smaller homes, to offset higher borrowing costs. Conversely the buy-to-let sector appears to be under some pressure, though elevated interest rates are just one factor impacting landlords' business models, together with considerations of future rental market reforms. It remains to be seen how many may choose to exit and what that could mean for the supply of properties available to buy.
"Prospects for the UK housing market remain closely linked to the performance of the wider economy.
"Several factors are providing support, notably strong wage growth, running at around +7% annually. And, while the uptick in unemployment is likely to restrain that somewhat, it seems unlikely to reach levels that would trigger a sharp deterioration in conditions.
"Expectations of further Base Rate increases from the Bank of England were tempered by a better-thanexpected inflation report for June. However, while there have been recent signs of borrowing costs stabilising or even falling, they will likely remain much higher than homeowners have become used to over the last decade.
"The continued affordability squeeze will mean constrained market activity persists, and we expect house prices to continue to fall into next year. Based on our current economic assumptions, we anticipate that being a gradual rather than a precipitous decline. And one that is unlikely to fully reverse the house price growth recorded over recent years, with average property prices still some £45,000 (+19%) above pre-Covid levels."
Industry figures commented on the news.
Jason Tebb, Chief Executive Officer, OnTheMarket.com:
"As the annual decline in average property prices continues, the high cost of living and numerous rate rises are impacting how much buyers are willing and able to pay for their next home.
However, given all the economic uncertainty, it is remarkable how relatively stable the market appears to be following a period of unprecedented house price growth fuelled by lack of supply and demand.
There are committed buyers who wish to move but they are also increasingly price sensitive. Motivated sellers would be wise to seek advice from an experienced agent who understands the market in their area, ensuring they price sensibly to achieve a timely sale."
Tom Bill, head of UK residential research at Knight Frank:
"The journey back to long-term rate normality has been fraught and put downwards pressure on house prices and sales volumes over the last year.
"The previous government went too far, too fast for financial markets and the Bank of England has been accused of doing too little too late. However, some lenders are cutting mortgage costs as the bank rate nears its peak, which means that while sentiment will remain subdued, it should improve in the second half of this year.
"While we expect UK prices to fall by 5% in 2023, demand should prove more resilient than expected given the shock-absorber effect of strong wage growth, lockdown savings, the availability of longer mortgage terms, forbearance from lenders and the popularity of fixed-rate deals in recent years."
Jonathan Hopper, CEO of Garrington Property Finders:
"The property market's reset is turning into a marathon rather than a sprint.
"The Halifax's data shows that average prices continue to fall in all but one regions of the UK, and last week's ratcheting up of interest rates will nudge up the cost of borrowing further.
"The pace of price falls remains relatively modest – with the Halifax estimating that July's 0.3% drop shaved £1000 off the price of the average home.
"Meanwhile the Bank of England Governor is warning that higher interest rates are here to stay, pushing up the cost of mortgages and reducing the amount of money would-be buyers can borrow."
Iain McKenzie, CEO of The Guild of Property Professionals:
"Despite four consecutive months of declining prices, the outlook for the property industry is not as gloomy as forecasts suggested at the beginning of the year. If the market was as weak as many predicted, house prices would be tumbling right now.
"Instead we are seeing a gradual readjustment in house prices, but we are still way above pre-pandemic levels, much to the disappointment of first-time buyers.
"The main summer months of July and August are generally slow periods for the property market, as house hunters shelve their searches for holidays. This impacts prices, as sellers in a rush to move may be inclined to lower their asking price to entice buyers in.
"The affordability factor is still weighing on the minds of most buyers, but particularly for first-time buyers that may be seeing their deposit not go as far. Others may face mortgage offers that aren't as competitive as we've previously seen over the last decade.
"This squeeze will undoubtedly have an impact on sales, and we are anticipating a fall of around 20% in the volume of sales by the end of the year.
"Tackling inflation is the number one priority, followed by committing to building homes which are truly affordable. This will ensure that more buyers are able to get their foot on the property ladder."
Nathan Emerson, CEO of Propertymark:
"Even though house prices have fallen year-on-year, this does not compare to the dramatic price rises that we experienced last year. As house prices begin to steady, and with recent rises in wages, houses are becoming more affordable while equity is remaining stable.
"After recent positive inflation news bringing the potential for a peak in interest rates sooner than previously expected, there is also some hope that fixed mortgage rates will start to fall. Even as they remain high compared to recent standards, buyers are able to negotiate on price and come to a middle ground with sellers still able to make a healthy gain on the final sale price."
This article is taken from Property Industry Eye.
Hear from our customers
'This is the best Estate Agent in Milton Keynes by far. We have been renting the past 10 years from these guys and never let us down…Would 100% recommend Stratfords Property Services to anyone.'
Fatjon K
'Stunning service, excellent communication and very quick. We hope everybody who is involved in buying a house (especially first time buyers like us) to have an estate agent as Matt.
Gunai A
'I can highly recommend Stratfords. They are a professional but approachable and friendly team.They quickly found a new tenant for me and managed to negotiate a very good rent. Good communication.'
Ian K
'We were incredibly pleased with the service and experience that we were provided with by Matt…Stratfords are a lovely business and I'm grateful that we found our new home through them, would highly recommend!'
Joe F
Recommended to Landlords and Tenants alike. Luke and Matt were incredible during the whole process of renting and talked me through everything with amazing attention to detail. Stand out the best letting agents in Milton Keynes.
Kyle
'David and his team have been my agents for my rental properties for the last 10+yrs and have always been extremely fare and professional in delivering exceptional value for money… These are my go to guys for rental agents and house sales and purchases'
Neville H
'They have been amazing since the time we started viewing properties. At that time I was working in London and it was very difficult to view properties, but with the assistance from Luke we made it possible…It truly is a joy renting from Stratfords.'
Pieter L
'Had a great experience with Stratford Property Services. Luke was always extremely responsive and flexible in the 18 months I rented a property through them. I wouldn't hesitate to rent through Stratfords again in the future.'
Rachel C